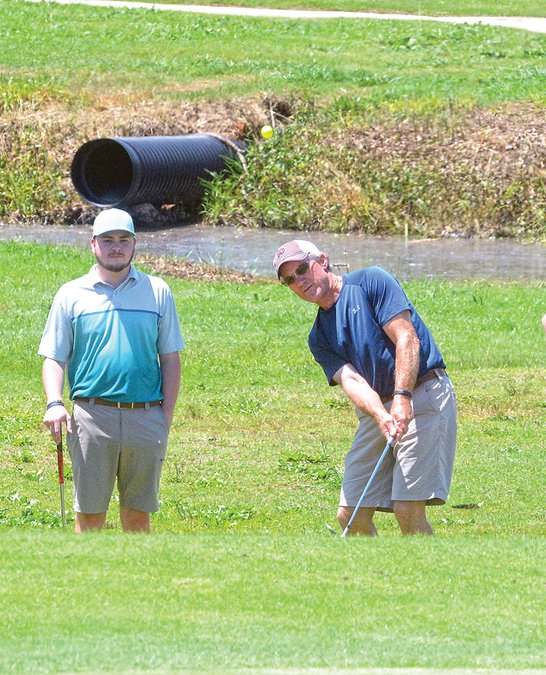 Pieter van Vuuren and Jamie Stinson made sure to putt and drive their way to first place this time.
Just days after a late charge propelled them to second place in McMinnville Country Club's prestigious Spring Fling, the two teamed with David Marttala and Alan West to win the inaugural Champions for Children Charity Golf Tournament at the Country Club on Friday.
The tournament was a benefit for the Children's Advocacy Center.
The winning team blistered the course to shoot 58, which is 14-under par. Afterwards, van Vuuren laughed off comparisons to golf legend Phil Mickelson. 
The team of Tim Land, Shane Brock, Wes Fanning and Kenny Delon finished in second place.
Action on the course was inspiring. John Sparkman showed his skill by chipping onto the green on hole No. 9 and then sinking a 20-foot putt for birdie.
The team of Hank Patton, Matt Brown, Tommy Myers and Clayton Myers was filled with talented players, yet they found themselves in the sand trap on No. 9. Clayton launched a beauty of a shot from the sand to give the team a tap-in putt.
The team led by Bobby Kirby and Herschel Wells Jr. looked ready to make a move on No. 7, but they couldn't get a long downhill putt to find the hole for birdie.
Matt Richey was still glowing from his win the weekend before at the Spring Fling with partner Zack Molloy. Richey was teamed with Mark Hitchcock, Mark Harvey and Lake Kirby in this one and they made some noise with a strong drive off the No. 8 tee. They showed flashes of great play but couldn't grasp the consistency needed to win the title.
It was the inaugural tournament for the Children's Advocacy Center with 19 teams participating and 50 hole sponsors.
"This is our first fundraiser since 2019 so it's been a long time," said CAC executive director Cassell Galligan-Davis. "We were looking to raise $7,000 but it might be closer to $8,000. I hope everyone had a great time supporting a great cause."