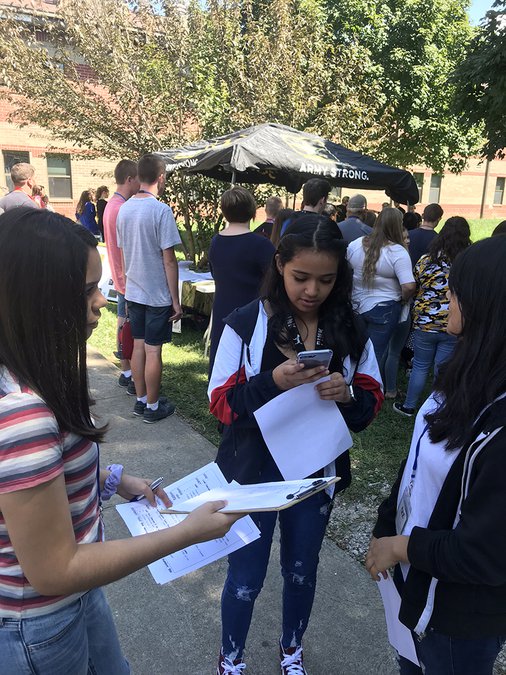 This year at Club Rush, 400 students of all nationalities signed up for the Multicultural Club at WCHS. Out of those who showed interest, there are currently 200 members in good standing with club policies. 
Anne-Marie Loeffler has been a Multicultural Club sponsor for six years alongside Anne Hunter Myers. At first, membership started small. 
"We believe that because Mrs. Loeffler and Mrs. Myers are foreign language teachers that increased enrollment in the club because of their multicultural discussions in class," explained minority liaison and club sponsor Leah Simpson. "I came on board last year and work with the minority population and therefore the minority population has increased their enrollment with the club as a new home."
The WCHS Multicultural Club is an organization designed to give all students a better understanding of the past and present accomplishments and contributions of all races and nationalities. The club typically meets once a month and offers high-schoolers a place to come together, hang out and learn to appreciate their own background, interests, and beliefs as well as the diversity of other student groups.
Some of their monthly activities include:
• Having guest speakers. For example, parents from other countries share their culture and experiences with students. 
• Taking trips to explore culture and history, including the Greek Festival in Nashville/ Parthenon and Native American Pow Wow in Nashville. 
•Sponsorship of a yearly talent show, which also doubles as a fundraiser.
• Holding an international Day of the Dead Dance. 
• Participating in service projects such as helping Families in Crisis. 
"Often times, students at WCHS don't have the means or opportunity to experience cultural festivals and we are able to take them and they are grateful and ecstatic," said Simpson. "Not only do we do field trips to cultural festivals but also local plays that encompass other cultures."  
Several WCHS students shared some of their favorite activities along with what the club means to them. 
"I'm in Multicultural Club because it's where I feel the most comfortable and have the most fun," said 12th-grader Maria Garcia. "Sharing cultural views and tasting different foods is always a fun experience to share with friends." 
Added 11th-grader Marvin Alamilla, "I've enjoyed learning about diversity and cultures and it's a great and unique way to experience it in our own school environment."  
Club organizers say the WCHS campus is composed of unique individuals, who don't all see the world the same way. Additionally, since school plays an important role in preparing students for the responsibilities of an ever-changing, diverse and global society, this club is as vital as ever.
"We feel it is important to have this type of club offered at WCHS because the name in itself encompasses its MULTIcultural," said Loeffler. "All are welcome.  All have a home."  
For more information, club sponsor Leah Simpson can be reached at simpsonl@warrenschools.com.