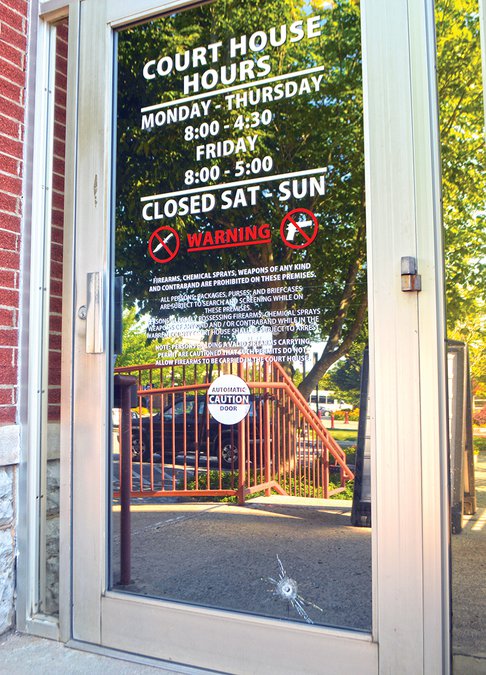 A shot was fired at Warren County Courthouse this week with one bullet ripping through its front glass door.
No one was injured and it's believed the courthouse was unoccupied at the time.
"It would have happened between 6 p.m. Tuesday evening and 6 a.m. Wednesday morning," said McMinnville Police detective Sgt. Todd Rowland. "There were people there until about 6 p.m. It was found Wednesday morning by the custodian when he came into work at 6 a.m."
Information is scant at this time.
"Right now, we don't have a lot," said Rowland. "We're pulling video from businesses in the area. We'll review those videos and hopefully they will show us something."
Back in December 2019, someone took a shot at the courthouse and at Bobby Ray Elementary. At both locations, it was determined that a pellet gun or BB gun was used to shatter the glass to the entrances facing Main Street and Chancery Street. 
The weapon used this time was an actual gun. 
"It was most definitely a bullet hole," said Rowland. "I can't say with utmost certainty if it was a rifle or a pistol but it was not a BB gun or a pellet gun. It left a pretty big bullet hole through the glass. The bullet fragmented when it hit. Small pieces of it were found on the rug inside the building."
No bullet casing was found.
"We did canvas the area looking for a bullet casing," said Rowland. "None was discovered. By the time we received the call, it could have been several hours after the incident. They had mowed the grass. People were in and out of the courthouse. Vehicles driving by. If a bullet casing was there, it was gone by the time we got there." 
Anyone with information is urged to call McMinnville Police Department at 473-3808.