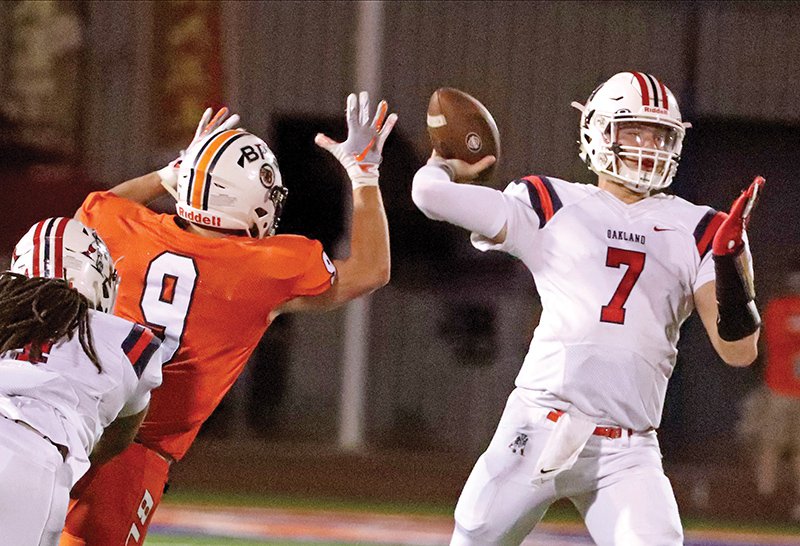 The Pioneer football schedule definitely saved the best for last this season.
Warren County will suit up for a final time this Friday at 7 p.m. and there's no secret about who will be the favorite in Murfreesboro. The Oakland Patriots are 9-0, ranked No. 1 in the state and are among the best high school teams in the nation. 
Nobody knows about the challenge facing the Pioneers more than head coach Matt Turner.
"There's no sugarcoating this one. They're really good and we're going in as a big underdog," said Turner. "Everything in practice this week has been about focusing on every one-on-one battle each play. We aren't going to win every single one on every play, but our guys are working to show they can win plays against guys who are getting SEC offers and signing with big schools.
"Big challenges offer big opportunities. We have a chance to show just how much we've improved and how we stack up physically against the state's best."
Oakland has won all its games by 20-plus points except for one, a 31-14 victory over Riverdale two weeks ago. The Patriots have scored 80 or more points twice, including last week's 80-6 victory at Coffee County.
The Patriots can score in every fashion, even when they don't have the ball. Oakland returned a fumble and interception for touchdowns last week while also returning a punt and kick for scores. Senior Dejon Glaster has five defensive touchdowns for the Patriots, who have scored more points on defense and special teams this year than they've allowed to their opponents.
The offense runs through transfer quarterback Kodi Sparks. After moving in from Indiana, Sparks has assumed the controls of an attack which will run out of a Wing-T look (similar to Warren County's offense) or spread out and let Sparks go deep.
Sparks threw four touchdowns in the first half of last week's game, giving him 18 for the season. Sparks has only thrown one interception in 110 attempts.
Antonio Patterson (433 yards, 10 TDs) and Tim Pannell (409 yards, nine TDs) lead the Oakland ground game.
Warren County's offense was completely shut down last week in a 42-0 loss at Riverdale, finishing with just eight yards and three first downs – all coming off Riverdale penalties.
Turner is hopeful the team will have a better showing this week.
"We have to come in and believe in ourselves and our ability to move the chains," said Turner. "We've had good games this year offensively. It's all about finishing blocks, pressing the holes and looking for ways to make an impact."