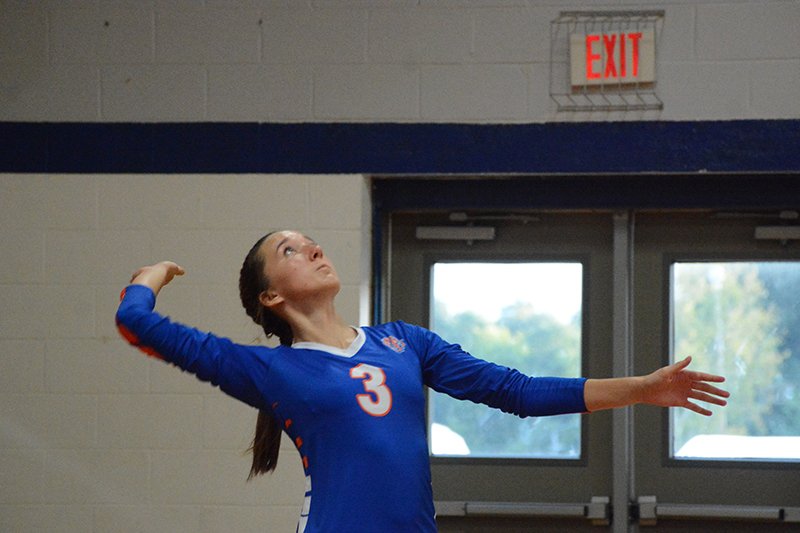 Winning has become second nature for the Boyd volleyball team by now. The Lady Broncos, the reigning TNCAA champions, aren't just rolling up victories on the court, they're serving and spiking their way to blowouts.
Boyd picked up another win Tuesday, beating the Lancaster Christian Knights in straight sets. The Lady Broncos won 25-19, 25-15 and 25-9 to improve to 5-1 overall and 4-1 in conference this season. 
While the Lady Broncos were already building something special in the last 3-4 years, the program has hit a new level the last two seasons, coinciding with the arrival of Krista Chisam. The junior and all-state honoree from 2021 is showing no signs of slowing down while leading the Lady Broncos to dominant stretches this season.
Chisam finished with six aces and 10 assists Tuesday, but that undersells just how much she can affect a game any time the ball is in her hands. Her serving has a way to spark scoring runs, just like it did multiple times Tuesday at JK Stanley Gymnasium.
Boyd's not-so-secret weapon was again on her mark with her serves, many of which seemed like they were leaving a vapor trail while going across the net. Chisam set the tone early, helping Boyd build a 7-0 lead in the first set. The Lady Broncos rolled from there, giving the visiting Knights no chance to catch up. 
By the final set, there was just no way to keep up with Chisam's heater. She was behind the line for a streak of 13 straight points at one point, including four aces where Boyd never even had to hit the ball again to pad its lead.
The Lady Broncos also had a few standouts from their former rivals helping the cause. Lanya Byars and Mia Onderka, who cut their teeth on the court playing for Covenant before the school shuttered its athletic program over the summer, were making plays in orange and blue Tuesday. Byars' backline defense was impressive, as was her serving. Onderka, a springy athlete with a penchant for finding the ball at the net, was both a defensive menace and an awesome attacker.
Anslee McCrary, another Covenant transfer, provided great coverage at the net as well, while Journee Page – a new addition from out-of-county – powered through some serves to stun the Knights.
The Lady Broncos will wrap up a four-game homestand next Monday, Sept. 5 against the TN Heat. Action kicks off at 5 p.m. at JK Stanley Gymnasium.