For the first time in 30 years, a new hotel opened in McMinnville when Hampton Inn began accepting reservations Oct. 28.
The hotel, located on Sparta Street across from the hospital, represents an $11.3 million investment, according to developer and owner David Hunt.
Our Hampton Inn has 73 rooms, an outdoor pool, a fitness center, a conference room, and a spacious breakfast area features waffles among its morning fare.
Hampton Inn is part of the Hilton chain, which is known for excellence.
"The Hilton banner is what brings people back," said Hunt. "When people stay here, they know they will get a safe, clean room at a fair price. Hilton has people come in religiously to do checks to make sure we maintain the high standards that are expected."
Before Hampton Inn opened, McMinnville Inn on Sparta Street was the last new hotel to open in town. It was built in 1991.
Hunt says Hampton Inn will allow McMinnville to entice many out-of-town visitors to stay in this community overnight.
"You'd be amazed at how many people who are visiting McMinnville drive to Manchester or Murfreesboro to spend the night," said Hunt. "It will be a big thing for this town to keep them here."
Hampton Inn guests will be treated to luxury. Each room has its own microwave, refrigerator and TV that's at least 50 inches wide. Doors are heavy and extra thick to serve as a barrier to hallway noise. There are also thick walls to minimize noise from adjacent rooms.
"With the robotics center across the street and all the people who are in this area for business, I'm expecting there will be a lot of guests who stay multiple nights," said Hunt. "That's why I made the decision to have a microwave and refrigerator in every room."
Fraley's building given fresh life
Three cheers to property owner Ken Roberts and his granddaughter Raven Young for revitalizing the old Fraley's building which had been vacant for more than 16 years.
The Main Street building that had served as Fraley's Furniture until 2003 has now been subdivided into four retail spaces and all four are rented with tenants.
Southern Traditions was the first to open there in February. Southern Traditions has been in business for 40 years and was located at its previous spot on Sparta Street for 18 of those years. Store owner Dale Groves and his staff say they enjoy their new location downtown.
"We've gotten positive comments from a lot of people and that's certainly good to hear," said Dale. "Everybody seems to be real excited that we're downtown and we're excited to be downtown."
The buzz intensified when Begonias opened in June. Restaurant owner Seth Davis calls it "elevated casual dining" and the restaurant has been a welcome addition to downtown.
"You could pick this restaurant up and put it any other place in town and it wouldn't be the same thing. This is where I wanted to be," said Seth.
Begonias offers pizza, pasta, sandwiches and more. It's open late on weekends and the bar area has become a popular spot.
BenchMark Physical Therapy and Three Sisters Candle Co. round out the two other spots in the old Fraley's building. Benchmark joins Pioneer Pediatrics as a downtown healthcare facility and Three Sisters is a unique store where all products are made on premises.
Fazoli's announces plans to open here
Rumors became official in October when Bill Townsend purchased the old Bojangles property on The Strip and announced he would be bringing a Fazoli's to McMinnville.
Bill has 52 years of restaurant experience and owns six Captain D's restaurants, although not our local Captain D's, and he has previously owned a Wendy's franchise.
Fazoli's has been hiring store managers and is eyeing an opening in late February 2022. Fazoli's offers lasagna, wings, spaghetti, and an endless supply of breadsticks.
"If we're asking people to pay their hard-earned money, we're going to provide quality," said Townsend. "Fazoli's is a company I really like. Their CEO has done an outstanding job over the past five years of increasing their sales and pointing the company in the right direction. They are opening a lot of new stores and doing well. This is my first Fazoli's, but it's a franchise I've been looking at for years."
Tammy Townsend will be handling dayto- day operations as the store general manager.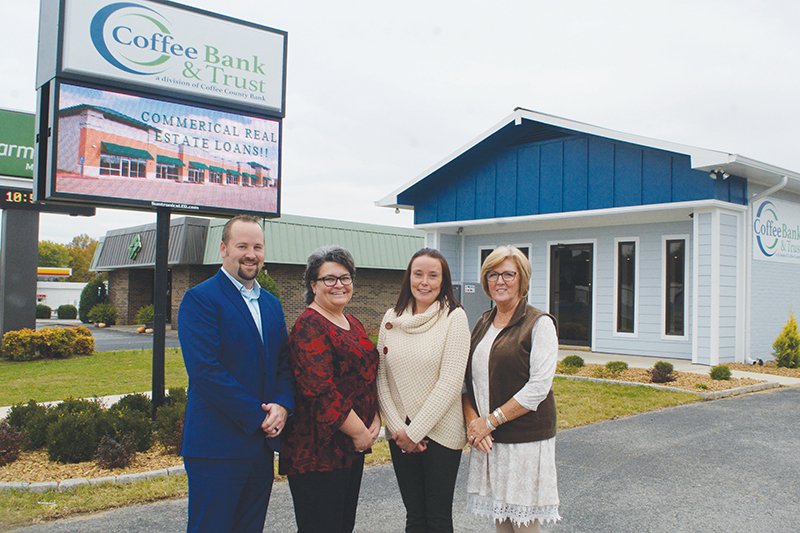 Coffee Bank moves into McMinnville
Coffee Bank & Trust opened a full-service office in McMinnville in November at 1502 Smithville Highway.
"One of the biggest things I'd like to emphasize is that we're vested in Warren County," said Coffee Bank city president Chase McGee, who is a 17-year banking veteran. "That's why we've hired all local people to work here and it's why we're supporting our local schools and sports teams. All the team members who are employed at this office are born and raised in McMinnville and have 69 years of combined banking experience."
Coffee Bank & Trust is currently located in what is known as the old Allstate office not far from McDonald's. Chase said it's a great place for the bank to establish roots, but bigger plans are already in the works.
"We are either going to purchase or construct a much bigger building that has a drive-thru," said Chase. "Banking is all about convenience and we know customers enjoy having a drive-thru."
It didn't take long for that new location to come into focus. On Dec. 4, Coffee Bank purchased the old Middle Tennessee Natural Gas office on N. Chancery Street. The plan is to level that building and construct a modern bank at that location.
Local employees include Christy Aughinbaugh, Bobbie Hillis and Denise Prince.
Dwayne and Bernadette Doud added a new level of excitement to the entertainment offerings in Warren County when they opened The Detention in February. The business is an oasis of video games, laser tag, bumper cars, a climbing wall, indoor mini golf, and tasty food.
"We've built our school of dreams," said Dwayne referring to the fact the business is located at what used to be Morrison School. "This is something the community has requested for years and we're thrilled to be able to open it. We didn't want to do what anyone else is doing. Laser tag and bumper cars and a climbing wall, nobody else has that. We wanted to get all this rolled out and we're happy with how everything looks, but we're not done yet. Be on the lookout for more to come."
One of those more things to come came in June when Tee Time at The Elementary opened.
The business features three indoor golf simulators that create a golf environment that can't be beat.
"I like this better than regular golf because no matter what the weather is doing outside, it's always comfortable in here," said Dwayne. "It's air conditioned, I don't lose my balls, and I can golf rain or shine, day or night."
The golf simulators, powered by Trackman, record and analyze every aspect of your swing. This includes club speed and spin rate.
"You don't need a golf coach because this will tell you what you're doing wrong," said Dwayne. "One thing I really like is it shows exactly where you make contact with the ball and whether it's in the middle or on the edge of your club."
You can golf with a large group, a small group, or by yourself. The bays are rented out by the hour, not by the person. It's affordable entertainment.
The Detention and Tee Time at The Elementary can be reached at (931) 7737529.
Country Club restaurant opens to general public
The restaurant at McMinnville Country Club opened to the public for the first time in club history in June with the arrival of Maple Street Grill.
"I think this is a perfect situation," said Country Club board member John Wilson. "The public will have a new restaurant, someplace different to eat, and I think it will help the club to attract new members while they're out here."
Mike Zelenak, a 46-year restaurant veteran, and his wife Chassi were the owners and operators of Maple Street Grill.
The restaurant has since changed hands and is now called Clubhouse Grill, but it remains open to the general public so everyone can enjoy the experience of dining at the Country Club. The menu includes burgers, chicken, fish and chips, steaks and a wide selection of appetizers.
Novares, which was got its start in Warren County as Miniature Precision Components, has informed its employees it will close its local plant at Mt. View Industrial Park at the end of April. According to the latest workforce records, Novares has 58 employees.
The company opened in Warren County as Miniature Precision Components and began production in Warren County with a skeleton crew of about 7-8 employees in January 2012.
Over the years, the MPC workforce ballooned up to as many as 85 employees who helped the company produce plastic engine components for the automotive industry.
Work was so good, MPC would double the size of its local facility from 50,000 to 100,000 square feet.
It was announced in early 2019 that a French company named Novares had purchased MPC. Novares has operations in 22 countries and the plant in Morrison is its only facility in the Southeastern U.S.
Industrial Development Board executive director Don Alexander tried to convince Novares to stay, but company officials would not change their decision. In a promising bit of news, Don announced at the IDB meeting in December that he had already shown the building to a potential tenant.
Two hometown pharmacies open
Graves Family Pharmacy has brought new life to downtown McMinnville by renovating the old bank building on West Main Street which had been vacant for 15 years.
After extensive renovation work, Chad and Emily Graves opened the pharmacy in February.
"It's a great find and has everything we need," said Chad. "It's a downtown building but it has plenty of parking in the front and back which is rare for downtown. It also has a drive-thru window. We feel like downtown is alive and well and we're happy to become part of that scene."
Graves Family Pharmacy quickly became active in the community by spearheading a number of vaccination clinics in an effort to protect local residents from the COVID virus. This included clinics at the Farmers Market and the Warren CountyA& L Fair.
As expected, opening the new hometown pharmacy required a mountain of paperwork.
"It has required a whole lot of processes," said Emily, who began working at Stewart's Pharmacy when she was in high school. It was at Stewart's when she realized she wanted to become a pharmacist. "I worked with Nestor, Mary, Donna and David and I got to see the way they took care of their patients. They were able to provide individualized care, which is something you don't get with the big chains. It's important to have a place where you can come and the pharmacist knows your name."
McMinnville Pharmacy became the second hometown pharmacy to open in three months when it opened in Newtown in May under the direction of pharmacist Hina Patel.
Hina says she loves the location of her pharmacy, making it very convenient for anyone who lives in the Centertown area to pick up a prescription. She offers easy prescription filling by phone, online, or by mobile app.
"Independent pharmacies can really give people the care they deserve," said Patel. "It's much different than the big chains."
Metal Products shuts down
Metal Products Company ceased operations on Garfield Street in January. The company had a workforce of around 50 employees prior to announcing its closure.
The one-time shoe factory went back into the hands of the Industrial Development Board, which leased the building to MPC for the entirety of its tenure in McMinnville.
"They provided good, solid jobs over the years and were a good tenant," said IDB executive director Don Alexander in announcing MPC had closed. "It was an arrangement which worked out well for both of us."
The Industrial Board agreed to sell the property and eventually selected an offer from Tri-State Development due to the amount of work which needed to be done throughout the building.
"This has been a massive undertaking and a significant investment, but it's a good investment," said Adam Bouldin of Tri-State Development. "Most businesses don't want to take on a project like this and we're in a position where we could get it done quickly. It didn't need to be a job that lingered for two years. Our goal is to get the best tenant in here with the most jobs."
Among renovations, the building is getting a completely new roof, new firstfloor windows, and new electrical work. Renovation is expected to be complete in late February or early March and Adam says he wants to find the best tenant with the best jobs for the betterment of the community.
Also added will be 180 storage units constructed on the end of the property closest to Milner Recreation Center. Adam says the 180 units will be in three long buildings.
For 42 years, Pioneer Building Supply operated its iconic store at 1655 Morrison Street in Westwood. The business was a landmark on that part of town.
In February, store officials decided to close that location and concentrate all their efforts at Pioneer Express at Northgate Center.
"We like being on this side of town so much better," said Pioneer Building Supply president Amie Hodges. "Everything we had at our old store we are carrying here."
In addition to the retail space inside Northgate Center, Pioneer Building Supply has constructed a 13,000-square-foot facility around back packed with lumber, building materials, roofing, insulation and more.
"We offer everything it takes to build a house right here," said store manager Kenny Hodges. "People ask us how we're going to be able to fit everything from the other store into this location and the main reason is we weren't utilizing all of our space at the other store."
Tools, paint, windows, doors, molding, trim, and everything in between is offered at the Northgate Center location. The store also carries pool supplies.
The former facility on Morrison Street remains vacant.