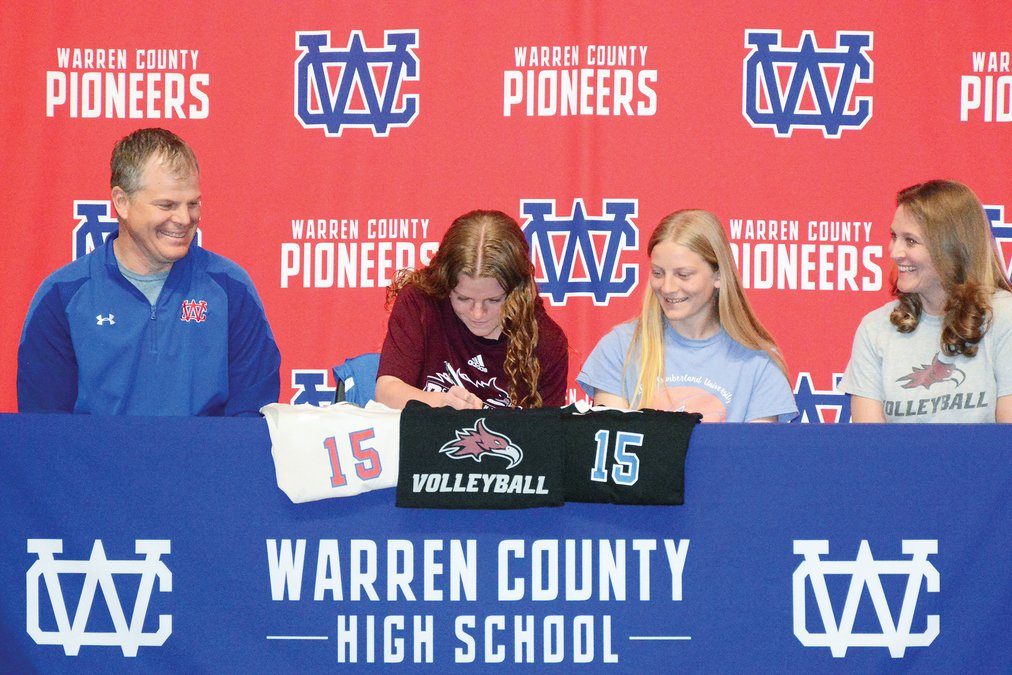 Being a great athlete seemed to come natural to Jessie Young. She shined bright the moment she stepped on the hardwood and diamond, but she needed to be coerced to try out for volleyball in middle school.
Six years later, Young has become just the second Lady Pioneer volleyball player to sign a scholarship in the last 10 years. Young's defensive prowess and overall impact on the court was noticed by Cumberland University, which offered the standout senior a chance to continue her career. She made it official Monday, signing in front of family, friends and teammates at Warren County High School.
Young had to shake her head and laugh when asked about her athletic career. Always known more as a softball player – or even a basketball player at Irving College – it was volleyball, a sport she didn't pick up until seventh grade that provided her a chance to go to the next level.
"My mom made me go to a camp, but I always kind of thought volleyball was a sissy sport," laughed Young after her signing day. "It didn't take long for me to realize how tough it is to play. It's been great learning and playing.
"I always thought it would be softball, but God had other plans. I'm really excited about playing volleyball – I know I'll miss softball because I love it, but volleyball is my favorite."
Young, who is currently taking a starring role during a 4-4 start for the Lady Pioneer softball team, only needed to find her spot to make volleyball a big priority. It happened when Erin Blalock arrived at WCHS and turned Young into a defensive dynamo on the back end of the Lady Pioneer attack.
"She's very versatile – She's quick, sees the court well and has good volleyball sense. Her serves are always on point, she has good hands and can swing – she can do anything we ask her to do and do it very well," said Blalock about what stands out when Young takes the court.
Young added, "Since sophomore year, when I became a defensive specialist, I really fell in love with volleyball. I just want to do whatever I can to get a good pass up and keep the game going."
Blalock believes Young was much more than a defensive anchor though. She always set the tone, picked up teammates and played with all-out effort that was contagious to her teammates.
"I think we've been able to see Jessie's talent since middle school. I've been coaching her for three years and she's had leadership qualities on and off the court the whole time. We knew from the very beginning that, if she wanted to, that she could go play and be very successful," said Blalock.
Cumberland University had no problem taking a chance on Young and bringing her into the program. Her talent was too good to pass up and the fit in Lebanon was a dream come true for the soon-to-be Phoenix star.
"It was very quick," said Young about the recruiting process. "I loved the campus – it was the perfect size for me because I didn't want anything too big and all the people there seemed like family already. The coaches are very kind – it was just an easy decision.
"They also have a very good nursing program and that's a big reason why I'm going there."
Young's signing is the first time the Lady Pioneers have had a player go to the next level since Bethany Fye, an assistant on this year's team, committed to Asbury College in 2018. Blalock believes it could be a sign of things to come as the program seems to be on the rise once again.
"This is great. You see it a lot in the other sports, but letting the younger girls see that this is possible and schools are looking at kids from Warren County to come and play. It's going to help and give the younger girls coming up something to work toward so they can get to this level as well," said Blalock.
The Lady Pioneers will now have to be on the search for the next star. While Young's shoe size may not be a large number, she still leaves huge shoes to fill going into next year.