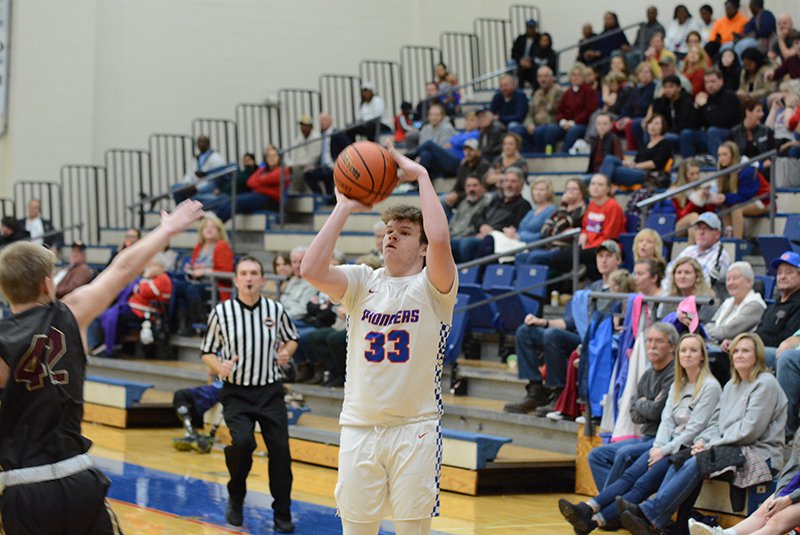 Luke Alexander saw an opening and took a chance. With no Pioneers offering resistance, Alexander rose up and threw down a thunderous dunk early in the third quarter of Monday's game.
Cannon County's bench celebrated. The Pioneers just seemed to shrug.
Alexander's emphatic jam was a catalyst for Lion romp at Charlie Dalton Gym, with the visitors topping the deflated Pioneers 71-61.
"We were flat-out outplayed. They outworked us. They dominated the paint. You name an area of the game and they beat us in that phase," said Pioneer coach Chris Sullens, who saw his team fall in back-to-back games for the first time this season. "Our team didn't look in sync or focused and that is on me.
"This group has to play with maximum effort each night. We can't physically impose our will on teams. We have to fight, scratch and claw for each thing we get to continue to have success."
Warren County (7-4) trailed the whole game, falling behind 30-21 by halftime. The Pioneers only had one spurt of solid play in the first half, getting impressive defense from Dante Elam to spark a 6-0 run.
The Pioneers trailed 18-9 when Elam sliced through to hit a contested floater. He jumped right into full-court pressure, poking the ball away just as Cannon County crossed halfcourt.
Elam fed Lacedrick 'Red' Cox for a layup, then was the beneficiary of Grant King's steal seconds later, adding a second streaking layup to net six Pioneer points in the span of 35 seconds.
Cannon County (7-3) was able to regroup before hitting the locker rooms, getting a big 3-pointer from Gus Davenport to lead by nine at the break.
Alexander nailed the coffin shut in the first minute of the second half.
After an airball, Alexander caught the ball under the rim with all five Pioneers retreating back. The Lion guard roared past three Warren County players by midcourt, with the path to the rim clearing. Alexander took two more dribbles with nobody entering the lane, giving him a chance to rise up and slam.
Sullens took a timeout immediately after with his team trailing 34-21. The deficit only grew from there. Cannon County built its lead to 22 at one point early in the fourth quarter before both teams emptied the bench.
The Pioneers got a late spark from Chance Hunter and Eli Kuykendall to make the final score respectable. Hunter drained three 3-pointers in the final five minutes, while Kuykendall had a pair of three-point plays on his way to a season-high eight points.
Kuykendall's second and-one basket cut the Cannon County lead to seven with 54.0 seconds left, but the Lions reinserted their starters to close the game.
Dee Spates finished with a team-high 10 points for the Pioneers, followed by Hunter with nine. Kuykendall and Aiden Cummings added eight points apiece.
Monday's loss was the second in a row as Warren County fell 63-59 Saturday at Pickett County. Irving Espinoza had a team-high 17 points in the road loss.
Monday's game was also the third straight game the Pioneers played without leading scorer CJ Taylor. The junior is being held out to rest lingering ailments. He's being listed as day-to-day, with a chance he suits up this week in the Sonic Shootout.